National Legal Hotline
7am to midnight, 7 days
Call our lawyers NOW or,
have our lawyers CALL YOU
No Conviction in Tasmania
---
If you have committed a criminal offence in Tasmania that offence may become 'spent' or 'annulled' which means that no conviction is recorded for that offence. The general effect of an offence being spent or annulled is that you have a right not to disclose that offence as part of your criminal record, subject to some exceptions. Tasmania has an annulled convictions scheme; the scheme is contained in the Annulled Convictions Act 2003. Tasmanian criminal offences which have a federal aspect may also have the benefit of the Commonwealth spent convictions scheme. The scheme is contained in the Crimes Act 1914. The rules for when a conviction may be recorded for a criminal offence are contained in the Sentencing Act 1997.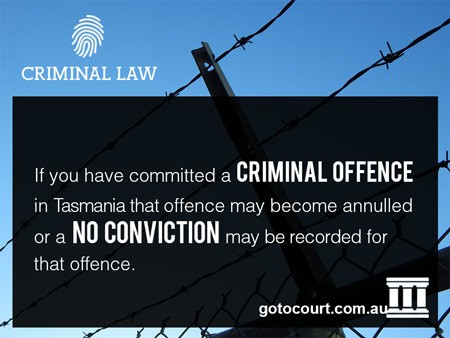 Sentencing without conviction
The Sentencing Act 1997 sets out the circumstances when a sentencing judge may record a conviction for a criminal offence. Whether a conviction is recorded will usually depend on what other penalties are imposed and the circumstances in which the offence was committed, including the nature of the offence, the character of the offender, and how a conviction would affect the offender's employment prospects and general social and economic wellbeing.
Section 10 of the Act stipulates that the Court is not prevented from making any other order which it may be able to make under the Act, even if it does not record a conviction. Therefore an offender may be ordered to participate in a drug treatment program even if no conviction is recorded. A conviction is not recorded if the charges against you are dismissed. If you are represented by a lawyer at the hearing for the offence, they will make submissions to try and stop a conviction being recorded.
Your criminal record
Even if a conviction is not recorded for an offence you commit, findings of guilt against you will still form part of your criminal record in Tasmania. Generally speaking, your criminal history can only be disclosed with your consent, but this causes major practical issues if an employer or volunteer organiser asks for your permission to do a criminal records check before employing you. Under the Anti-Discrimination Act 1998, it is illegal to discriminate against someone based on an irrelevant criminal record, but a guilty verdict with no conviction (that is not annulled under the Annulled Convictions Act) does not fall in this definition.
Tasmania's annulled convictions scheme
Under the Annulled Convictions Act 2003, in certain circumstances it is a criminal offence for a person, including a police officer, to disclose convictions of offences you have committed that have become annulled, unless you have given consent. Annulled convictions are not part of an offender's official criminal record, and cannot be required to be disclosed to any person subject to certain exceptions (e.g. if you have applied for a school teaching role). Only minor offences can become annulled. Convictions other than for sexual offences, convictions where a minimum sentence of 6 months imprisonment was imposed, and prescribed offences are minor convictions. A minor conviction will become annulled if an offender is of good behaviour for a period of 10 years in the case of an offence committed when the offender was an adult, and 5 years if the offence was committed when the offender was a child. However, if an offender commits another offence punishable by imprisonment within those time periods, it restarts at the time of the later offence.
Commonwealth spent convictions scheme
Under the Crimes Act 1914 (Cth), criminal offences under Tasmanian law which have a "federal aspect" become spent automatically after 10 years for an adult and 5 years for a minor as part of the Commonwealth spent convictions scheme. However, this rule does not apply to convictions where you were sentenced to imprisonment for more than 30 months. You have a right not to disclose spent convictions to any person, including an Australian Commonwealth authority or a State authority, including such an authority in a foreign country. There are some exceptions to this general right of non-disclosure; for example, if you work with or are seeking to work with children, and a body is required or permitted to collect that information under a law. Furthermore, if you are convicted of a further offence during the "waiting period" mentioned above, it may restart from the time you were convicted of the further offence.