Every State and Territory in Australia has laws regarding the maximum concentration of alcohol a driver is allowed to have in his or her body when driving or riding a vehicle.  The main way these laws are policed and enforced is through random breath testing at police road blocks, or testing after a vehicle has been involved in an accident or road incident.  Consequently, refusing to comply with a police officer's direction to give a breath test, or failing to give an adequate breath sample, are offences which attract penalties of a fine and/or imprisonment, and disqualification or suspension from driving.  The maximum penalty for these offences varies according to which State or Territory the offence was committed in.
For information specific to your state on refusal of breath testing see: NSW | VIC | QLD | WA | SA | NT | TAS | ACT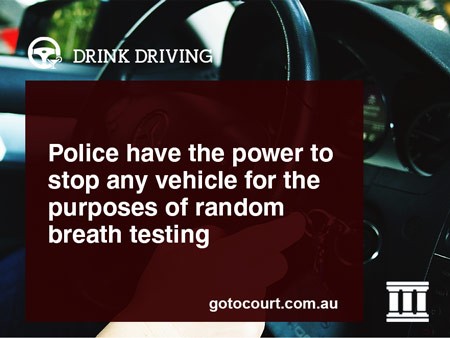 Police Powers
Police have the power to stop any vehicle for the purposes of random breath testing, or if they suspect a driver or rider has been consuming alcohol prior to an accident or prior to an offence being committed. They cannot, however, subject a person to a breath test if a certain period of time has elapsed since an accident occurred. This period of time varies from State to State; for example, in the Northern Territory and Western Australia, police can breathalyse a person within four hours of an accident or offence being committed, whereas in Tasmania police can breathalyse within three hours of an incident. Police are also empowered to give directions in relation to how a breath test is to be conducted, with which drivers and riders must comply. Failing to follow the lawful directions of a police officer in relation to breath testing is an offence. Police generally cannot ask a driver who is incapacitated due to injury, or is medically unable to provide a breath test, to do so. In these circumstances the police may be able to require a blood sample to be taken.
Offences
It is an offence to not stop your vehicle for the purposes of being breathalysed, unless you can demonstrate that it would have been unsafe for you to stop. It is also an offence to refuse to give a breath test, unless you have a lawful defence such as being medically incapable of providing an adequate breath sample. You must comply with the lawful and reasonable directions of a police officer when instructed to provide a breath test, as failing to do so is also an offence. It is also an offence to fail to provide a sufficient sample of breath for the test. In most of the States and Territories, a driver has the right to request that a blood sample be taken as an alternative to a breath test. In this situation a medical officer will usually be required to draw the blood and several vials taken.>
Penalties
The penalties for offences relating to refusing to give a breath test vary between the States, but always have a maximum penalty of a fine and/or a period of imprisonment. A driver's licence may also be suspended or disqualified for a certain period, or the driver may receive demerit points. The penalties will increase for second and subsequent offences, and may also vary depending on whether the second or subsequent offence was committed in a relatively recent timeframe.For example, the penalty for a first offence of refusing a breath test in Tasmania is $1,400, in South Australia is $1,600, and in the ACT is $4,500 (maximum). In the Northern Territory, failing to stop when instructed to by the police for the purposes of giving a breath test may result in a maximum fine of $29,800 and up to 12 months' imprisonment.>
Legislation in the States and Territories